Treatment options for male hair loss in Lahore 
Hair loss is more common in men rather than women. It can contribute to stress and anxiety in any person who is moving towards baldness. Social and emotional life is highly distressed due to hair loss problem. One can lose his self confidence badly. In men androgenic alopecia is seen commonly, which we also call male pattern baldness. It often is hereditary and passes to coming generations as well. Hair loss can begin at any age but most likely hair start falling after 20-30 years of age. Early baldness is more severe and serious if not controlled properly in time. To control your hair loss, it is very important to be self educated about the reasons causing hair loss, only then you would be able to treat hair loss in proper manner. Hair loss is not a disease but it can occur due to any disease. Usually hormonal problems are the main cause of hair loss. Some severe accident or trauma can also be the reason of hair loss Chemotherapy is a major factor contributing hair loss. Hormonal problem in the body are capable of shrinking hair follicles. So the follicles do present under the skin but they lose the potential to produce hair.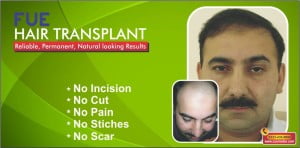 Hair loss is not an issue any more. Our hair specialized surgeon can give you, your natural hair back. Hair loss can be treated with medicine if it is not male pattern baldness. Permanent hair loss is only treated with the hair transplant surgery. If hair loss is not permanent, it can be cured with the use of medicine. Hair transplant surgery is very effective way of treating hair loss and it has come long way and producing excellent results. You need to find out the best surgeon and clinic offering hair loss treatments. You can take online appointment with our experienced hair transplant surgeon. Our surgeon can bring back your confidence and make your personality vibrant by giving your natural hair back on your bald area. You can achieve the result, you expected.
Hair loss can be treated surgically with two different methods. One is old fashioned but still implemented strip method. In strip way of harvesting hair, a strip of hair follicles taken from back or sides of your head or donor area and after segregating those follicles, implanted in the hair loss area. The other method is the latest FUE. In this method only a single hair follicle is taken and harvested in the bald area. Our clinic is offering both these hair transplant methods on a very affordable price and excellent results. Our clinic is the ultimate choice for the treatment of your hair loss in Lahore -Pakistan