People consult skin specialist or Dermatologist in Sargodha for baldness or hair loss problem. Many skin specialist in Sargodha recommended them some medicines, sprays and lotions to prevent hair loss. But majority people ended up visible partial or complete baldness. There are one or two clinics for hair transplant in Sargodha but their results are not good and people come to Lahore for best quality hair restoration. There are many clinic for baldness treatment in Lahore and many skilled and foreign qualified surgeons. When it comes matter of head, you deserve best treatment so that your procedure will be free from any sort of side effects, as result reflect your personality all life so it would be better if you could do little research and see before & after pictures on internet.
There are currently two methods of hair restoration called FUT and FUE. The latest and most advanced method called Follicular unit Extraction. Fue hair transplant in Sargodha is not so much advanced and people prefer to get it done from Dr.Ahmad Chaudhry. The clinic of Dr.Ahmad Chaudhry is famous for Fue procedure all over Pakistan and many people visit his clinic for baldness treatment. Dr.Ahmad Chaudhry has capacity to perform mega session consisting of 2000-3000 follicular unit in single session. FUT procedure is a old strip method. It is painful and give scar as well as discomfort of numbness many months even after procedure.
Cost of hair transplant in Sargodha is low as compare to big city but one should get best treatment with latest state of the art facilities.  It is not advisable decision to save few rupee and get bad hair transplant in Sargodha.  There will be many faults and mistakes if you would get it done from Sargodha. Your results will be poor and skin would be visible and disappointment visible from your personality. Therefore we will suggest you to avoid cheap or low cost hair transplant in Sargodha and choose Dr.Ahmad Chaudhry's clinic for hair restoration in Lahore. Dr.Ahmad has more than 16 years experience in this field and performed procedures on many celebrities of Pakistan.  He is trained and qualified in Paris France and you can get comparable results with any clinic in the world.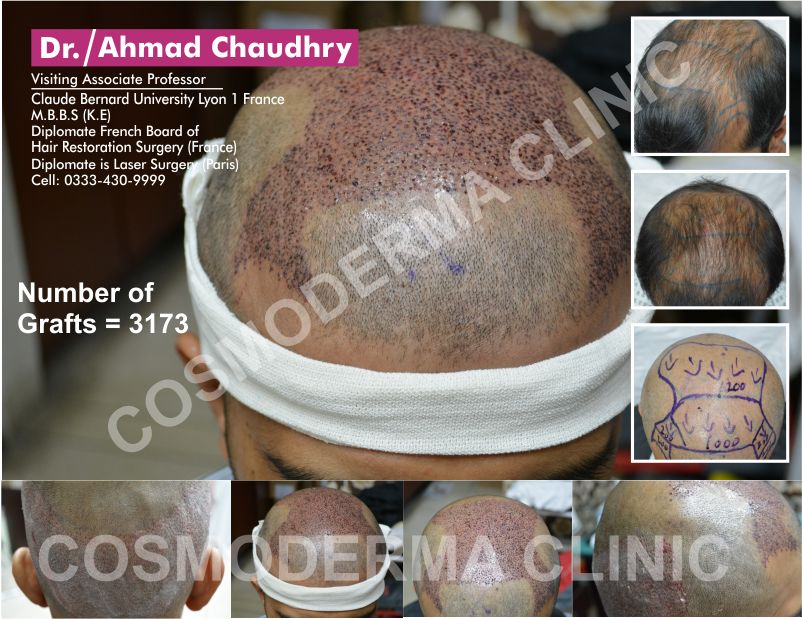 Questions about hair transplant? Get guaranteed answers in 12 hours.