Where to find hair loss treatment in Karachi 
Many clinics are offering hair loss treatment in Karachi and doctors in these clinics are highly qualified with many years of experience. From industry to medicine, there is an exposure to the latest trends in Karachi. Medical field in Pakistan is quite developed and there are many people who visit Pakistan looking for medical treatment. The cosmetic procedures have also become common since people have become aware of aesthetic beauty and struggle to look better. Hair transplants are done in Karachi and other cities of Pakistan in abundance and there are many doctors and surgeons who are widely acclaimed for the good results that they give.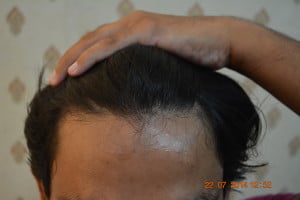 Laser hair loss Therapy
There are other hair loss treatments in Karachi well that are applied by many people who do not want a surgical method. These treatments include laser hair loss treatment, hair patches and extensions. Laser therapy or treatment is a technique that uses laser technology to stimulate hair follicles and gives them energy to produce hair. These hairs grow normally like the existing hair on the scalp and can be grown long as well.
Hair replacement patch or hairpiece
A hair patch is a hair piece, or hair strands attached to a semi permeable membrane that is glued on the scalp so that it appears as if the person has thick hair. The hair patch requires the person's head to be shaved from the area where the patch is to be attached. This piece is attached to the scalp using a natural adhesive and must be removed after a few days to shave the hair underneath. This is an old method and causes a lot of irritation since the shaven hair cause the scalp to itch and the hair piece is an alien body that is attached to the scalp and causes itching and irritation.
Surgical methods for hair loss treatment in Karachi
The surgical methods of hair restoration include hair transplants which are done in two basic ways, the strip method and the follicular unit extraction (FUE). The strip method is done by removing a strip of hair from an area of good hair growth and after dissection into smaller units this strip is planted on the bald patch. The FUE method is more technical since it involves extraction of hair follicles from an area of good hair growth and then planting them on the bald patch one by one. Not all surgeons can execute the FUE procedure since it requires additional skill and an artistic hand as well. The hair restoration procedure was introduced in the 1950s to treat and cover accidental scars and hair gaps; however, due to the success of this procedure, it was later used as a cosmetic treatment. The earlier methods of hair transplant were not as natural as the methods being used now. They produced an unnatural look and hair often appeared to grow out of a single follicle like 'doll's hair' or the scalp appeared bumpy and untidy. In Karachi, the latest techniques are being used and all the hair restoration methods are available. Once a person decides to go for hair restoration, he or she can choose from the methods available and can find a good surgeon or doctor in Karachi. Dr.Ahmad Chaudhry is a foreign qualified experienced surgeon providing hair loss treatment in Karachi and Lahore.
Get guaranteed answers in 12 hours by writing us from  hair loss expert.